Keynote Speakers
Maria Guadalupe
Maria Guadalupe is Professor of Economics at INSEAD and the Academic Director of the INSEAD Randomized Control Trials (RCT) Lab.
Maria's research focus is on organizational economics, multinational production and innovation. In particular, she is interested in the interactions between firms' organizational choices and markets, with a focus on firm performance. She has studied the impact of globalization and competitive environment faced by firms on internal organizational choices, such as pay levels, incentives, executive compensation, and hierarchical structures. She has also studied the impact of corporate governance arrangements on firm performance.
After receiving a PhD in Economics from the London School of Economics in 2003, Maria joined Columbia Business School where she held the Sanford C. Bernstein & Co. Chair in Leadership and Ethics. Maria has also been a visiting scholar at MIT and Princeton. Since 2012 she has been with INSEAD.
If you want to learn more about Maria, please visit her website.
Aniko Öry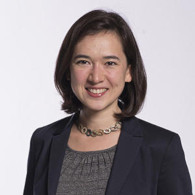 Aniko Öry is an Assistant Professor of Marketing at Yale School of Management.
Aniko's research interests focus on industrial organization, quantitative marketing, and microeconomic theory. In particular, she is interested in the analytical modeling of dynamic interactions of firms with customers, includingdynamic pricing in environments with asymmetric information structures. In her current research she explores how firms can provide incentives for word-of-mouth and how they can manage the content of it.
After completing her PhD in Economics at the University of California, Berkeley in 2014, Aniko has been working as a postdoctoral associate with the Cowles Foundation for Research in Economics at Yale. In 2015 she joined Yale School of Management as Assistant Professor of Marketing. Prior to her graduate studies, she received a Diplom degree in Mathematics from the LMU Munich.
If you want to learn more about Aniko, please visit her website.